Polymer suspension Insulator
22 Jun 2019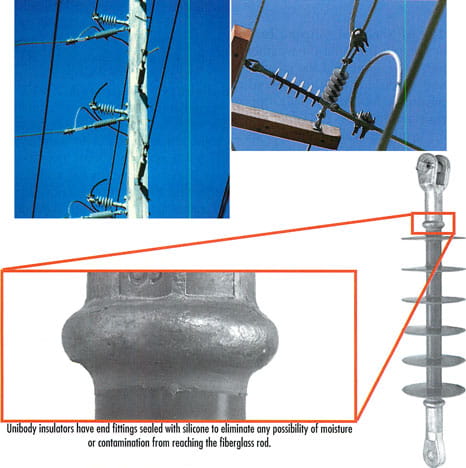 Silicone composite insulators are combined with FRP glass fiber reinforced rods and metal fittings.Since 1980, utilities around the world have installed thousands of silicone insulators in various environments.Its consistently superior performance proves its superior quality and design.
Fiberglass rods: high quality fiberglass reinforcement rods are the core of each insulator, and their ultimate mechanical strength is at least twice the maximum workload.
End fittings: standard stop/end suspension with u hook and tongue fitting, ANSI c29-2 specification.Balls, sockets, and eye accessories are also available.All materials are hot dip galvanized high strength carbon steel with ultimate tensile strength rating of 15,000 LBS.All terminal/terminal suspension insulator terminal fittings are held together by compression.
End/suspension, tongue and hook
Silicon series silicone insulator is characterized by silicon formula weather-shed material.Salisbury combines the excellent hydrophobicity and electrical properties of silicone with the best weather-shed design and corrosion-resistant fiberglass rods to produce a state-of-the-art insulator that meets or exceeds industry requirements.The insulator was tested according to ANSI C29 and IEC1109.The end fittings are made of hot dip galvanized high strength carbon steel providing ultimate tensile strength of 15,000 LBS.100% verify the test to ensure the installation is trouble-free.
KANGLIBANG is to creat solution for your problem with bonding silicone, welcome customer inquiry to us.