Silicone adhesive three curing mechanisms
17 Jan 2020
Silicone adhesive three curing mechanisms
What is the silicon adhesive curing mechanism?
Silicone adhesive three curing mechanisms: silicone adhesive according to the curing mechanism can be divided into: heating curing type (hot curing glue), room temperature curing RTV silicone glue (condensation type) and addition reaction adhesive three categories.
Curing mechanism of heating vulcanized silicone adhesive:
The core material of cl-24/26ab silica gel adhesive is polysiloxane with high molecular weight and peroxide is used as cross-linking agent.
The mechanism is the radical cross-linking reaction induced by peroxides.
Typically employed to solid or liquid silicone rubber and metal, plastic material forming.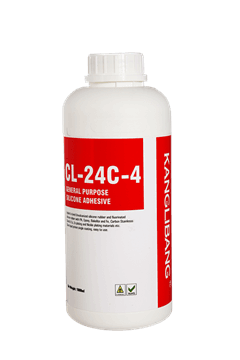 Curing mechanism of RTV silicone adhesive:
Low molecular weight polysiloxane was utilized to seal the hydroxyl group.
Can be separated into a single component of silicone adhesive and two components of silicone adhesive.
Curing mechanism of one-component room temperature vulcanized silica gel kn-300: the hydroxyl group in the blue meets the hydro-gas in the air to be vulcanized and formed, hydrolyzes to the unstable hydroxyl group, and then condenses with the cross-linking agent.
Different cross-linking agents can be divided into the following four types:
(1) diabetic acid type: KANGLIBNAG kn-300n, kn-300x
(2) dioxide type: kn-300a, kn-300t and kn-300b /H
(3) dealcoholization type
(4) decision type
Curing mechanism of two-component RTV silica gel adhesive:
Mechanism of condensed silica gel adhesive: hydroxyl in silica gel adhesive is formed by condensation reaction of alkoxy group on catalyst (organotin salt, such as tin dibutyllaurate, stannous oxalate, etc.) and cross-linking agent (alkoxy silane, such as ethyl orthosilicate or its partial hydrolysate).
Dealcoholization is the most common type.
Pressure-sensitive adhesive curing mechanism of molded silica gel:
Kl-6634 / kl-6638 is linked by a platinum catalyst.
There are no byproducts in the curing process, but it is not difficult to poison the catalyst, so it is necessary to avoid contact with N, S, P and other elements.
KANGLIBANG is to creat solution for your problem with bonding silicone, welcome customer inquiry to us.