Which primer is suitable for overmolding silicone onto PP to make Silicone rubber nipple bottles
29 Apr 2017
Both Silicone rubber and PP are non-toxic and odourless , easy to get colored and does not change its shape easily. They are generally appear in the form of family use products ,like silicone cups and hot water container . The baby used plastics- silicone nipple bottles are made from PP materials ,It is achieved by LSR silicone overmolding PP , the lsr silicone is overmolded onto the PP bottle mouths by injection molding with 90 degrees for 20minutes.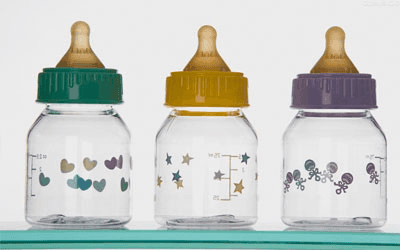 LSR Silicone overmolding PP ,KANGLIBANG had the CL-26AB-3 , which is two component ,liquid form and strong adhesion. It extend its application from the platinum base silicone co-mold with PP (corona treated) in hot air vulcanization to platinum base silicone overmolding PA ,metal ,TPU . The primer -coated substrates had a long storage time , it's generally applied in silicone kitchen products ,silicone diving products, silicone baby care products ,silicone rubber parts ,silicone rubber rollers .etc.
Now let's take an insight into how to overmold lsr silicone onto PP with 5 easy steps.

1, Treat the substrates with solvent like industrial to remove dirts and oils.
2, Mix completely the A and B with ratio 1:1 and apply the primer by dipping, brushing, spraying or silk screen printing method.
3, Leave dry in room temp for 30 minutes or baking at 110-130℃ for 15-20mintes.
4, The primer treated substrates are processed within that day.
5, Foward the unvulcanized silicone rubber with primer-coated substrates in mouding process or hot air vulcanization.
LSR silicone overmold PP, CL-26AB-3 bonded products can withstand high temperature above 220 degrees for second cure of silicone rubber.