What is thermosetting silicone glue?
10 Sep 2019
What is thermosetting silicone glue?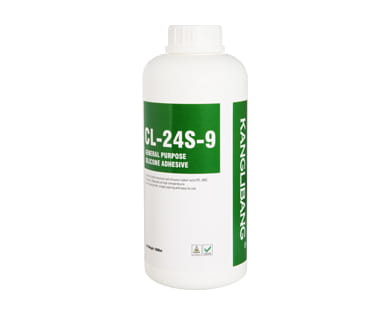 This is a kind of thermosetting adhesive, as its name implies, it is necessary to heat and solidify silica gel glue on silica gel bonding other materials.
The thermosetting silica gel glue produced by kanglibang is an adhesive formed under the action of heat and catalyst alone or in combination. It has the advantages of not melting and not dissolving after curing.
Different from thermoplastic adhesives, this kind of thermosetting silicone glue has good creep resistance, can withstand high load, and has good durability in various cold, hot, humid, radiation and chemical corrosion harsh environment, and can be used as an excellent structural glue.
Over the past 10 years, we have focused on the development and production of silicone glue, and solved the problems of silicone adhesive for customers.
The newly developed cl-24w thermosetting silicone glue has all the advantages mentioned above, and it has a good bonding effect on a variety of silicone rubber blends, including those requiring or not requiring secondary vulcanization.
Single component, single coating, simple process.
Application: peroxide-vulcanized silicone rubber or fluorosilicone rubber and metal (such as carbon steel, stainless steel, aluminum, copper, galvanized pieces, nickel-plated pieces, etc.), nylon, electric wood, epoxy resin and other hard base materials.
KANGLIBANG is to creat solution for your problem with bonding silicone, welcome customer inquiry to us.