What glue is used to stick silicone sealant strip?How to stick?
04 Sep 2019
What glue is used to stick silicone sealant strip?How to stick?Kanglibang silicone sealant manufacturers.13 years focus on organic silicon sealant production, using German imported environmental protection materials, fast dry, slow dry silicone sealant.Sticky silicone sealant strip kn-300 or kl-301ab.
What glue is used to stick silicone sealant strip?Use special silicone glue.According to its bonding time can be divided into: fast dry silicone sealant, slow dry silicone sealant.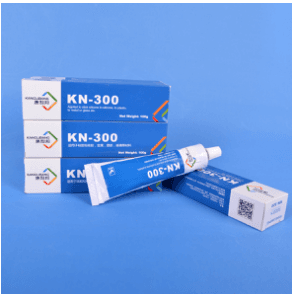 Two-component organic silicon sealant | quick drying organic silicon sealant kl-301 is mostly used with heating curing and mold.Typical application: food grade silicone sealing ring.Can achieve 15 seconds of strong glue silicone seal strip.Slow dry silicone sealant is often room temperature vulcanization type, non - corrosive silicone adhesive sealant.It USES the moisture in the air, vulcanized to form elastic silicon like glue.Suitable for silicone pair bonding.Meanwhile, for metals including copper, plastics, ceramics, glass and silica gel, the kn-300 series has excellent non-corrosive bonding.How to stick silicone sealant strip?According to the choice of different silicone glue to choose different bonding process.
Kl-301ab:
1.1 ratio: A:B=1:1(weight ratio);
1.2 weigh the materials in proportion and mix them evenly;
1.3 decompress and degas the evenly mixed glue mixture under vacuum, and then pour or apply the glue to the place to be sealed or bonded;
1.4 after heating at 170℃ for 10-15 seconds, the silica gel is solidified.
2.1 pre-treating the surface of the silicone strip with cl-24s-3 primer can greatly improve the adhesion of the cured silicone rubber.
Single component silicone sealant | slow dry silicone sealant strip kn-300a:
1. Clean the surface of the bonded silica gel with toluene or alcohol;
2. Evenly apply silica gel glue kn-300t on the interface where silica gel is to be bonded;
3. Press and position the adhesive for no less than half an hour, and achieve the best effect after 12 hours at room temperature.
KANGLIBANG is to creat solution for your problem with bonding silicone, welcome customer inquiry to us.