What glue does dermal stick silica gel to use
02 Sep 2019
What glue does dermal stick silica gel to use?In theory, the solution of instant adhesive + silica gel treatment agent can be adopted.However, this kind of instant glue has the disadvantage of whitening and becoming brittle.Therefore, kn-300 silica gel adhesive is recommended to be used for "KANGLIBANG" silicone leather glue.This kind of room temperature vulcanized silicone rubber material, can be leather, leather, linen, cotton and other textile substrates and silica gel bonded together firmly, flexible, not yellow.
What glue does dermis stick silica gel to use
1) quick-drying glue
Acrylic instant glue such as 502 glue, such as 406/460/601/603 glue.The silicone rubber surface activated by K770 silica gel primer can be bonded with leather, leather, imitation leather and other base materials.Advantages: can be glued firmly in a few seconds;Disadvantages: slight bleaching, brittle phenomenon.Due to the permeability of dermal tissue, it is not recommended to use in large area products.
(2) kn-300 silicone glue for leather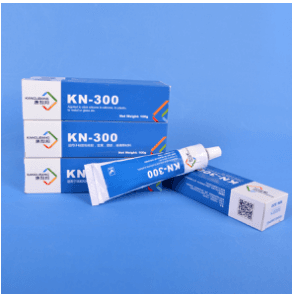 Advantages:
(1) single component, organic silicon polymer compound
(2) high modulus, impact and vibration resistance;Good thermal stability, uv resistance;Ozone resistant chemical medium, excellent electrical properties.
(3) kn-300 silica gel and leather bonding glue, transparent environmental protection, colorless and tasteless after curing, toughness, not yellow;
(4) self-drying type, soft, high temperature 280 degrees low temperature 60 degrees suitable for sticking silicone sealing ring and silicone and plastic, metal, wood, ceramics, glass, sealing and filling waterproof silicone products
5. Kn-300 silica gel adhesive: room temperature glue, soft, suitable for sticking silica gel, plastic, metal, glass, monitoring lens, ceramics, silica gel sealing ring, silica gel bracelet, silica gel bra, silica gel adhesive glass, silica gel cover, silica gel tube, silica gel medical accessories, silica gel shaped tube, silica gel parts, silica gel finger cover and other silica gel products
Precautions for use:
5-15 minutes dry table (KANGLIBANG suggests that the silica gel extruded from the glue should be glued and glued within 3 minutes), 3 hours can reach 80% strength, 24 hours after complete curing, the adhesive strength per unit area can reach 5-15 kg.
KANGLIBANG is to creat solution for your problem with bonding silicone, welcome customer inquiry to us.