What are the advantages and disadvantages of silicone in BPO peroxide vulcanization system?
24 Sep 2019
Do you know the advantages and disadvantages of silica gel in BPO peroxide vulcanization system?
Believe most people are not special understanding, BPO system silicone vulcanization after what kind of advantages and disadvantages?
Today small make up for each boss a little explanation, let everyone do a preliminary understanding of this kind of process.
First of all, what is BPO?
Commonly known as BPO, benzoyl peroxide, also known as benzoyl peroxide (Benzoylperoxide, Benzoylsuperoxide), white crystalline powder used at room temperature for polyvinyl chloride, unsaturated polyester, polypropylene, such as monomer polymerization initiator, also used for polyethylene crosslinking agent and rubber curing agent.
Silicone of BPO peroxide vulcanization system
Advantages: after vulcanization in the BPO system, the initial viscosity and stripping force of silica gel are usually much greater than when it was formed.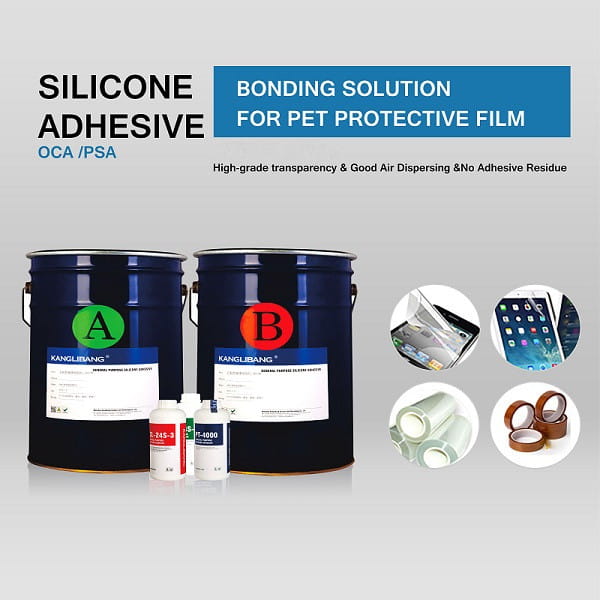 Disadvantages: 1. High energy consumption, mechanical properties are not as good as molding.
2. In order to have good adhesion (one more process and high material cost), it is necessary to cooperate with primer;
3. Baking temperature exceeds 170 ° c, otherwise the silicone gel cannot complete the vulcanization process (high power consumption).
4. The coating thickness is required to be high. For example, PI high-temperature tape and other products have high peeling power.
The above is small series summary of the BPO peroxide vulcan system of silicone, has the characteristics (advantages and disadvantages) summary, shortcomings please call to discuss, more pressure sensitive rubber vulcan process.
KANGLIBANG is to creat solution for your problem with bonding silicone, welcome customer inquiry to us.