Silicone kitchen glue
28 Aug 2019
There are cl-24, cl-26 silicone glue and RTV silicone glue.The former solid silica gel, liquid silicone rubber and metal, nylon, bakelite molding or injection molding bonding together, stick firmly, food grade, high production efficiency.Disadvantages: large investment of technicians in production, mold and glue use in fixed sites;The latter kn-300 glue is suitable for silicone sleeve bonding metal, safety level is higher than food grade, waterproof, high temperature resistance, flexible and not easy to degum.Processing site is more flexible, easy to glue, novice can complete the bonding.
Silicone coated glue
Used for the production of silica gel rubber roller, silica gel kitchenware (bowl, shovel, spoon, scraper, oil brush, handle pot handle, egg beater), silica gel roller, silica gel roller.This kind of silicone glue can be compatible with metal, nylon, plastic, tempered glass, ceramic, bakelite and other base materials.KANGLIBANG cl-24 / cl-26 silicone coated glue is used to vulcanize silicone and various metal materials in the mold at high temperature to simplify the types and usage of glue, improve production efficiency and reduce the cost of glue.Free for the majority of manufacturers to provide samples and bonding programs.At present more than 2000+ silica gel kitchenware manufacturers use.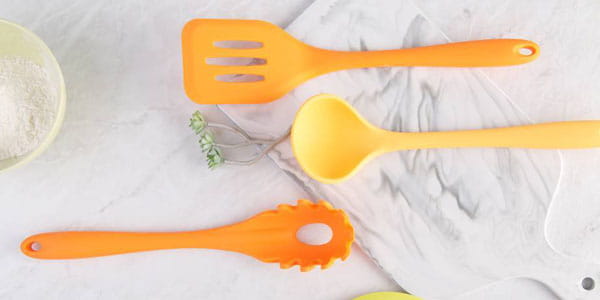 Kn-300 series of RTV silicone rubber materials higher than food grade safety certification are used as adhesive, which can realize the bonding of most materials such as normal temperature silicone and metal plastics.At the same time, glue has flexibility, resistance to high and low temperature, waterproof and other advantages.Bonded silica gel kitchenware and silica gel tableware are widely used at room temperature, and 1000+ silica gel kitchenware OEM factory has been used for a long time.What kind of silicone kitchenware glue good "KANGLIBANG" two kinds of sticky silicone kitchenware glue advantages and disadvantages comparison.Let you choose the glue suitable for your own silica gel kitchenware production.
KANGLIBANG is to creat solution for your problem with bonding silicone, welcome customer inquiry to us.