Resistance to high and low temperature -60℃ to 200℃ silicone adhesive ABS glue
10 Oct 2019
There are many silicone bonding ABS glue on the market, but there is a high and low temperature resistance (-60℃~200℃) silicone ABS glue you know?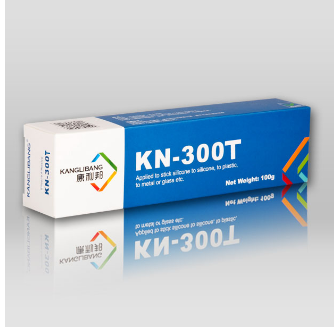 Plastic ABS non-toxic, tasteless, appearance is ivory translucent, excellent mechanical properties, its impact strength is very good, can be used in very low temperature;
Good wear resistance, dimensional stability, and oil resistance.
The glue required by silicone ABS must match the performance of plastic ABS before it can be used in the process of silicone ABS adhesion.
Kn-300t is specially developed by the research and development team of kanglibang to solve the problem of silicone adhesive ABS glue. This type of glue is colorless semi-transparent paste colloidal, with excellent insulation, 200% tensile toughness, high and low temperature of -60℃ to 200℃, which is in line with the low temperature, abrasion resistance and impact performance of plastic ABS.
As long as you do a good job in removing dirt and dirt from the bonding surface between silica gel and ABS, apply kn-300t glue and apply appropriate even pressure, you can make silica gel and plastic ABS perfectly bonded together. After 24 hours of complete curing, you can make your silica gel adhesive ABS products become perfect and tear without removing glue.
KANGLIBANG is to creat solution for your problem with bonding silicone, welcome customer inquiry to us.