Mixing special high - quality silicone rubber adhesive
14 Nov 2019
What glue does silica gel mix glue stick?
Mixed rubber is hot vulcanized HTV silicone rubber glure rubber added with reinforcing filler, vulcanizing agent, color master and other auxiliary agents by mixing process and semi-finished products, can be molded, extrusion, hot vulcanization and other processes and coated with silicone glue metal, nylon and other materials bonded together, processed into a variety of silicone rubber products.
Cl-24 series is a special high quality silicone rubber adhesive for high temperature mixing, which is used for bonding metal, nylon and other materials with silica gel mixing at 170.
Silicone rubber and hot vulcanized silicone rubber are a kind of silicone products with superior yield and wide application.
Silicone rubber has excellent resistance to high and low temperature performance, can be used in the range of -60 ~ 250℃ for a long time, and has excellent electrical insulation performance, can withstand ozone, weather aging, hate water, moisture-proof, and has a good physiological inertia.
Mixed rubber (hot vulcanized silicone rubber raw rubber) can be generally prepared in the general rubber mill. Mass production is carried out in a kneading machine or closed mixing equipment.
Silicone rubber raw rubber: degree of polymerization 5000 ~ 10000 vinyl 0.03% ~ 0.15%;
Packing: silica, silica, diatomite, quartz powder, etc.
Infiltrates (chemical control agents) : terminal reactive groups (poly) siloxane;
Mixing equipment: closed mixing machine, double roller machine, kneading machine, etc.
Heat treatment process: 1 ~ 2h at 150 ~ 180℃;
Filter mesh: 100 ~ 250 mesh stainless steel mesh.
The preparation of mixed rubber to vulcanization molding process is as follows:
(1) raw rubber to prepare mixed rubber:
Silicone rubber raw rubber → silica + structure control agent + processing aid → pour glue, mix (the mixer is then to mix) → heat treatment → filter glue → mix glue
(2) silicone rubber molding:
Mixed rubber back refining + double bisulfide agent, double bisulfide agent + crosslinking agent → thin pass (8 ~ 10 times) → coated with cl-24 silicone rubber adhesive metal nylon material → extrusion or pressing, vulcanization molding → secondary vulcanization → silicone rubber products (pure silicone products or silicone coated products)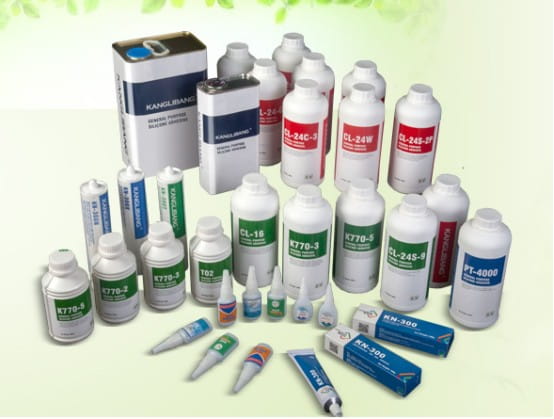 What glue does silica gel mix glue stick?
According to different kinds of vulcanizing agent, adhesive temperature, bonding base material to choose the appropriate glue: the commonly used vulcanizing agent is double 25, double 2-4 vulcanizing agent;
Hot bonding temperature: 90℃-140℃, 170℃;
It is often used for silicone mixing and gluing metal base materials, including stainless steel, aluminum alloy, copper, iron, hardware, powder metallurgy, metal electroplating parts, etc., plastic: high temperature resistant nylon PA6/PA66, pc1414/2805/2804/2807, PBT, PET, etc.
KANGLIBANG is to creat a solution for your problem with bonding silicone, welcome customer inquiry to us.