Medical pressure sensitive adhesive which is good
02 Sep 2019
Good medical pressure-sensitive adhesive is known to have hypoallergenicity, air permeability, adhesion, compatibility with skin, adaptability to disinfection treatment, and medical test certification.Kl-6635 / kl-6638 silicone pressure-sensitive adhesive, no allergy to skin, breathable and sweat-permeable, no degumming and sticking when sweating, easy to sterilize with gamma ray certification, iso-9001, 13485 medical grade certification, "KANGLIBANG" medical silicone pressure-sensitive adhesive brand is the guarantee.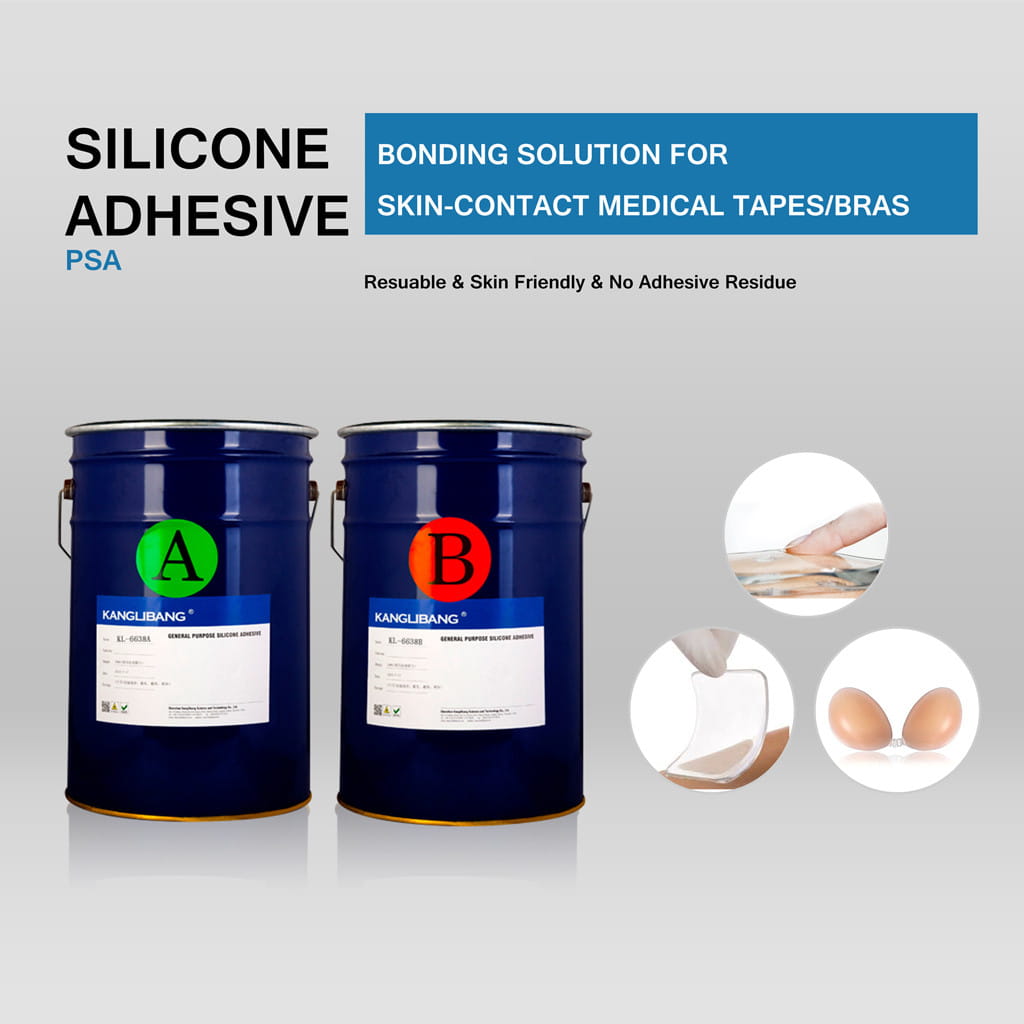 Take kl-6635 / kl-6638 medical silicone pressure-sensitive adhesive as an example: it has the following six characteristics of medical pressure-sensitive adhesive.
hypoallergenic
Medical silicone pressure-sensitive adhesive tape is hypoallergenic and will not stimulate the skin, such as redness, itching, small papules and other allergic reactions
permeability
Medical tape has good breathability, which greatly reduces skin irritability and makes skin breathable after covered by adhesive products. It plays a positive role in skin perspiration, keeping wound dry and accelerating wound healing.
Adhesion: the skin of the person has dry sex and oily different, also have the distinction with much close and without hair hair, still have smooth and rough cent.Medical hot-melt pressure-sensitive adhesive products can meet the needs of most people's skin, stick on the skin, can still maintain a certain adhesive force under the condition of skin sweat and body fluid secretion in humid or sultry environment, and do not produce the phenomenon of becoming uptight and falling off quickly.
Skin friendly: good compatibility with skin.It mainly reflects the following three aspects
(1) peeling strength should not be too large: paste the medical silicone pressure-sensitive adhesive products peeling strength cannot be too large, keep within a certain limit, otherwise the skin will have tight feeling uncomfortable, peel off, there is pain and very easy to pull hair, injury skin.
(2) the initial viscosity of the skin is good: because most of the materials used in the wound or wound around, should not be used to squeeze, so the adhesive products of the initial viscosity is good, instant can stick to the skin.
(3) after tearing no residual glue: from the skin after tearing no residual glue left, especially in the adhesive material around the edge.
Adapt to disinfection treatment: many used in wound adhesive paste, wound paste after disinfection treatment, can not because of disinfectant and make adhesive products deterioration.At present, the use of gamma ray and drill ray disinfection has little impact on the glue, while the use of hot steam disinfection may cause changes.
Medical related test certification
(1) cytotoxicity test: check for possible precipitated toxic substances in pressure-sensitive adhesive.
(2) skin irritation test: it is used to test and check whether there is any possibility of skin irritation caused by precipitates in the materials coated with glue.
(3) skin allergy test: it is used repeatedly in different age groups and people to test the reactions of skin allergies.
Common medical-grade safety certifications include ISO9001, ISO13485, ISO14001, BRC system certification, ETI audit, eu CE certification, FDA registration, etc."KANGLIBANG" medical pressure-sensitive adhesive series products have obtained ISO9001, ISO13485 certification.
KANGLIBANG is to creat solution for your problem with bonding silicone, welcome customer inquiry to us.