Keep this in mind by using super instant glue
22 Aug 2019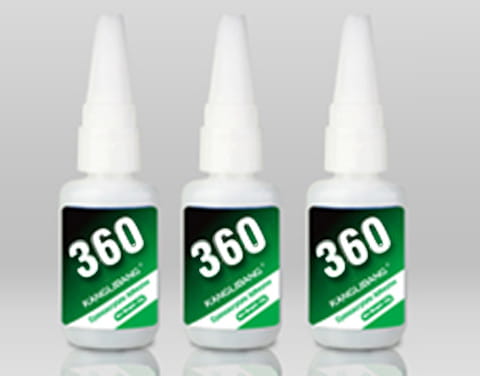 Strong instant glue is a one-component, low viscosity, transparent, normal temperature fast curing adhesive, this kind of glue does not need to heat curing, can fast adhesion and strong adhesion force, have good adhesion ability to most materials, is one of the important room temperature curing adhesive.
Because of its fast, instant drying and strong adhesive force, it should be used with great care.
Always remember:
1. Never wear knitting gloves. Knitting gloves will cause rapid polymerization reaction and generate extremely high heat, which will instantly burn your hands.
Second, the strong instant glue volatile gas has a strong irritation, use should keep the workplace ventilation.
3. If a large amount of glue is accidentally leaked, it should be cured with water first and then cleaned to avoid direct contact with damaged skin.
Iv. If contact with eyes is accidental, because the strong instant glue is very hard after curing quickly, so do not rub to avoid injury to the eye, immediately rinse with water or use hot towel hot compress, serious situation immediately sent to the hospital for treatment.
Storage environment
1. Store in an airtight, dark, room temperature place, cool, dry and ventilated.
2. Stay away from fire and power sources.
KANGLIBANG is to creat solution for your problem with bonding silicone, welcome customer inquiry to us.