How to do the silicone over molding metal of blister non-stick ?
15 Apr 2017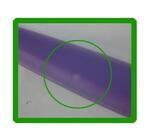 Silicone over molding metal process,often appear bad product. For example,the place of silicone bonding metal has bubbles , part of do not bonding . usual reasons and the elimination method as following,
1,The part of the blister and non-stick whether is the same place
2, Metals whether is clean, suggest using toluene or alcohol to clean.
3, silicone primer is dried at room temperature or baking . The weather is very good conditions and environment of no dust in the workshop at room temperature to dry 30 minutes . Baking to dry at 100℃-120℃ for 10-15 minutes.Products will be bad if it is below this parameter.
4,The raw silicone place time whether is too long, suggest that mixing raw silicone rubber within 24 hours.
5,The metal surface of galvanized, Uneven coating also can appear the phenomenon.Recommend sandblasting or making rough.