How to bond silicon rubber board and aluminum board?
10 Sep 2019
Recently, customers always ask "how to bond silicon rubber board and aluminum board?"The following on the silicon rubber board and aluminum board bonding problem for the solution.Very simple, use [concord] silicon rubber board and aluminum plate glue kn-300t slow dry glue can be effective solution.Use the method to popularize everybody.This kind of silica gel glue is suitable for silica gel board and aluminum and metal alloy material at room temperature, which is applied in large area, high temperature resistant, waterproof and insulating fields.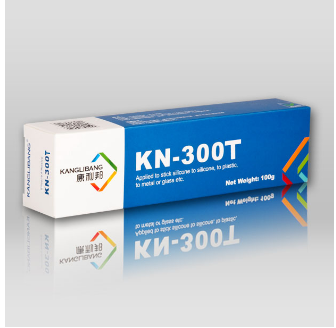 How to bond silicon rubber board and aluminum board?
(1) thoroughly clean the aluminum board grease and oxide layer.[pure aluminum is extremely oxidized to black in air];
(2) glue, apply kn-300t to any surface of silica gel board or aluminum board, and control the glue below 2mm for better effect;
(3) glue bonding 30 minutes before the appropriate pressure does not shift, 24 hours after the complete curing inspection bonding effect;
Silica gel and aluminum alloy bonding, (1) can use hot vulcanized silica gel glue cl-24cw, in 180℃ high temperature, solid silica gel and aluminum alloy and other metal materials, plate vulcanizing machine in the heat mold, pressure mold molding.(2) instant adhesive 601 can stick silica gel and aluminum plate, with K770 primer activated silicon rubber plate, silica plate can stick aluminum and metal alloy materials more firmly.Silicon rubber board how to stick aluminum according to different glue to choose the appropriate use method.
KANGLIBANG is to creat solution for your problem with bonding silicone, welcome customer inquiry to us.