How is the curing speed of KN-300 series of adhesive silicone glue?
08 Apr 2020
KN-300 is very suitable for this glue, metal, plastic and other materials can be bonded, and the price is long and affordable! Very popular on the market. However, its curing speed is very slow, and it usually takes about 24 hours to basically cure, but this is also a feature that has both advantages and disadvantages. The advantage is: for those large-area substrate bonding, there will be enough time to proceed Positioning, there will be no rework. Disadvantages: For a small area of substrate, the time allowed for curing is indeed a bit longer.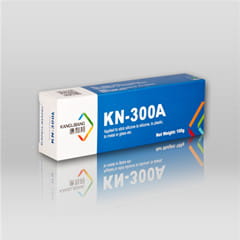 The slow curing speed of KN-300 adhesive silicone glue is actually its characteristics. It is not impossible to speed up his curing speed. Xiaobian has done a small test. Let's share the experience together:
The curing principle is to react with the water vapor in the air, and the heating will reduce the contact with the water vapor. If you need to accelerate the curing speed, the adhesive can be fixed and placed in 80 ℃ warm water or a corresponding high temperature environment.
KANGLIBANG is to creat solution for your problem with bonding silicone, welcome customer inquiry to us.