How does silicone rubber bond?
26 Sep 2019
Today, we will learn about three common bonding methods.
Here refers to the practice of silicon silicone adhesive between (already forming good silica gel), according to the silica gel products have silicone o-rings, seals, air balloon, miscellaneous pieces of silicone accessories, silicone mobile phone sets, silicone cartoon, silicone baby products, silicone adult supplies, medical products silicone (silicone corrugated pipe, tube, silicone laryngeal mask, silicone catheter, silicone breathing mask, silicone expanders, puncture, blood oxygen probe, etc.) between the silicone rubber adhesive?
How to bond the first kind of silicone rubber, is also common in the production process: instant dry glue, immediately stick immediately good, but the silica gel needs to do pre-treatment, shortcomings are also obvious after the glue solidification will be hard, the bonding site is brittle, not high temperature resistance not more than 80 degrees, water resistance oil resistance acid and alkali corrosion resistance is not strong!
But can meet most of the requirements of silicone products, so the application is still very wide!
How to bond the second kind of silicone rubber, is RTV room temperature vulcanized silicone rubber adhesive, no pre-treatment, direct adhesion, but the curing time is longer, full curing needs 24 hours!
The advantage is the glue after curing very soft, elastomer, very good temperature performance (-60 degrees to 200 degrees), waterproof sealing is not under the word!
If there are any silicone products surface need injection, this is not the choice of two (warm prompt: the silicone adhesive to glue first 24 hours after complete curing to injection well, don't read the process to make the ha) also have FDA certification, baby supplies, make kitchen utensils and tableware sealing ring, and making friends should know the importance of the FDA medical apparatus and instruments;
How to bond the third kind of silicone rubber, is HTV high temperature vulcanized silicone rubber adhesive, AB two components;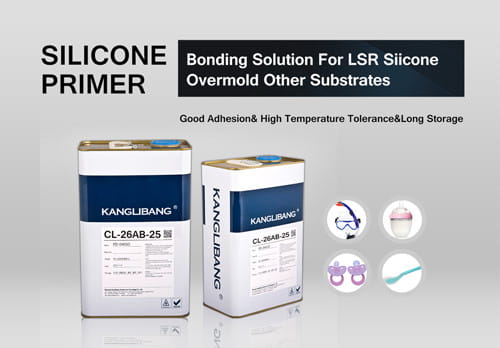 Also do not need pre-treatment, according to the proportion of the mixture mix after direct use, 180 degrees to 250 degrees high temperature 10 seconds to do!
Specific time depends on the thickness of silicone products, structure, hardness!
Glue after curing is very soft, elastic, very good temperature resistance (-60 degrees to 200 degrees), waterproof sealing is not under the word!
But the premise that USES this kind of plan is you must form a complete set professional silica gel hot glue equipment!
Do O ring, do sealing ring friends, this is an excellent choice to save labor costs, efficiency is not to say, a person operating two machines, no problems, compared to the second scheme of manual bonding, production can improve more than one grade!
KANGLIBANG is to creat solution for your problem with bonding silicone, welcome customer inquiry to us.