High temperature resistant silicone glue
14 Nov 2019
High temperature resistant glue kn-300t can not only withstand high and low temperature (-60℃ to 200℃), resistant to ultraviolet and ozone, but also insulation, not white not hard, more important is also in line with ROHS standards, obtained SGS, FDA, LFGB certification, China environmental mark product certification.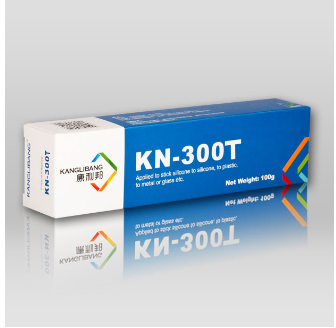 Kn-300t high temperature resistant glue
1, clean to be bonded surface, PC plastic and silicone surface with toluene or alcohol cleaning;
2. Evenly brush the silicone glue kn-300t on the interface of silicone or PC substrate to be bonded;
3, the silicone and PC plastic laminate, pressure, positioning not less than half an hour, room temperature after 12 hours to achieve the best effect.
【 KANGLIBANG 】 glue is widely used in the adhesion, fixation, sealing, electrical, insulation, anti-fouling, waterproof, shockproof and coating of electronic appliances and integrated small appliances and instrument analysis.
KANGLIBANG is to creat solution for your problem with bonding silicone, welcome customer inquiry to us.