Description of application of silicone rubber adhesive
10 Sep 2019
Silicone rubber adhesive is a single component of transparent liquid, mainly relative to silicone rubber and metal (stainless steel, steel, copper, etc.), resin, glass fiber, ceramic hot vulcanization bonding.
Excellent bonding performance, easy to use.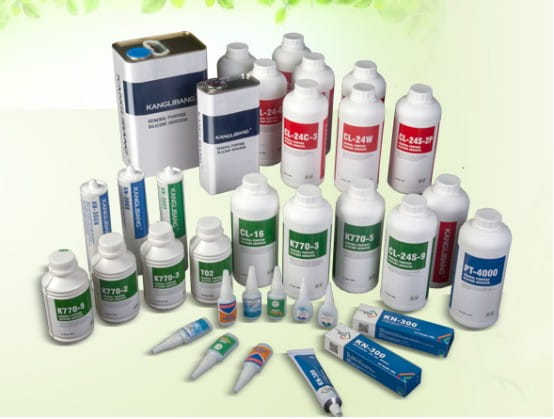 Suitable for bonding of imported and domestic silicone rubber with various substrates.
Silicone adhesive is composed of one-component silicone polymer, peel strength, adhesion, lap shear strength and a variety of features such as high viscous bao comprehensive balance characteristics, applicable to unvulcanized silicone rubber and metal (stainless steel, steel, copper, etc.), resin, glass fiber, ceramic heat vulcanization adhesive, can be used to import, domestic silicone rubber base material with all kinds of adhesive, is a good adhesive bonding between silica gel and silica gel.
Silicone rubber adhesive is used for silicone and nylon, plastic bonding professional adhesive, high and low temperature (-60~200℃), ozone resistance, uv resistance and excellent electrical insulation.
Widely used in electronic, electrical, automotive, instrumentation, machinery, chemical and other bonding.
Here is an example of silicone bonding with metal.
Usage of silicone rubber adhesive: the adhesive surface should be clean, dry and dust-free.
Cut the nozzle to size required by sizing.
After extruding the hose to the adhesive surface, close the adhesive part as soon as possible and fix the adhesive surface with mechanical positioning;
Place the pressed silicone products in a flat place.
Pressed silicone products as far as possible not to bend, so as not to make good silicone products deformation.
The bonding of silica gel tube and silica gel tube needs to be fixed with a clamp for positioning, and only after the adhesive is preliminarily finalized can the panasonic clamp (generally about 0.5-2 hours, the specific time needs to be self-determined).
The bonded silica gel products should be placed for 24-48 hours before testing.
After opening, it should be used up at one time. If it is not used up, it can squeeze out the solidified part in the next use.
Notes for silicone rubber adhesive: ensure ventilation when sizing.
When using the adhesive as much as possible to apply how much adhesion, when not used to seal preservation, so as not to cause unnecessary curing due to contact with air adhesive.
Avoid prolonged contact with uncured glue.
If accidentally splash into the eyes, should be promptly washed with plenty of water and seek medical treatment.
Stay away from children.
Store in dry and cool place, away from heat source and open flame.
KANGLIBANG is to creat solution for your problem with bonding silicone, welcome customer inquiry to us.