50 degree special platinum vulcanizing agent
14 May 2020
50 degree special platinum vulcanizing agent
Platinum vulcanizing agent is a two-component addition molding vulcanizing agent, which has the characteristics of low vulcanization temperature and fast vulcanization speed. Compared with traditional peroxide vulcanization systems, it has the advantages of environmental protection, high efficiency and odorless.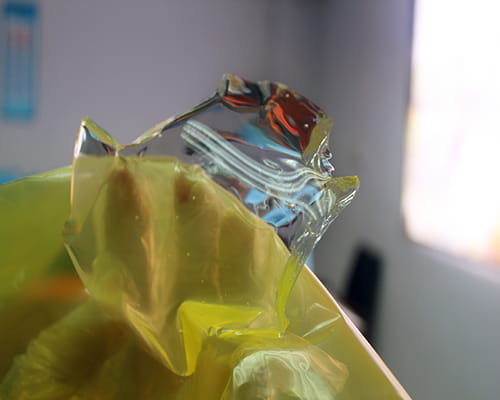 What is platinum curing agent?
Platinum vulcanizing agent is a silicone vulcanizing agent that adds platinum components. Compared with double two four, double two five, odorless anti-yellow vulcanizing agent, CL-100AB can make the crosslinking reaction of the silicone rubber molecular chain, making the linear molecules form a three-dimensional network The structure, the plasticity decreases, and the strength of the elastic agent increases, and the vulcanization increases the auxiliary agent. The rubber platinum vulcanizing agent makes silica gel more environmentally friendly, non-toxic, odorless, and can pass FDA food-grade or medical-grade safety certification. It is highly transparent and anti-yellowing.
Characteristics of 50-degree platinum vulcanizing agent:
1. Infertility occurs any new low molecular weight, no odor
2. Hygienic level conforms to FDA.SGS.LFGB and other certifications, which is more reliable than other similar products
3. One-time vulcanization is completed
4. Good dimensional stability and low compression rate
5. Save time and electricity, improve consumption efficiency while reducing consumption costs
6. The mechanical function has been greatly improved.
What is the difference between 50-degree platinum vulcanizing agent and ordinary vulcanizing agent?
Platinum vulcanizing agent has many advantages, so the price and cost are many times more expensive than ordinary vulcanizing agent. Platinum vulcanizing agent mainly exhibits the following points in the production process. It has excellent dispersibility, low volatility, and fast vulcanization speed. It is suitable for cross-linking of vinyl silicone rubber, polyethylene, and ethylene-propylene rubber. , Low temperature molding, saving electricity and time. Used in some daily necessities, common vulcanizing agents are more widely used in major industries.